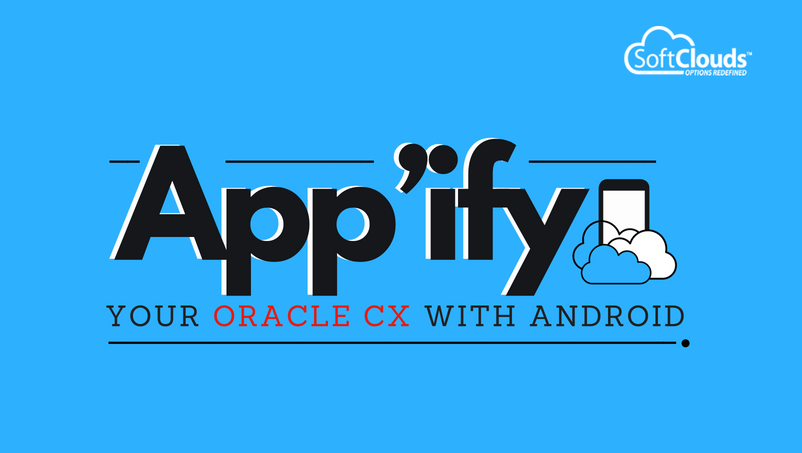 Take your CX to the next level with a Mobile App
Share your Best Mobile App Idea & SoftClouds will build it for FREE!
Mobile is becoming the Norm in this era of digital transformation. Is your business ready to integrate Mobile with your on-premise and cloud-based systems? With technology promising newer levels of efficiency, experiences & ROI, extending to mobile devices is increasingly becoming a priority for businesses like yours.
To take the 1st steps into Mobile, Innovation and Business Agility, SoftClouds can help you get started by putting your ideas/innovations to reality where we can integrate with Oracle CX Products (OSvC, OEC, CPQ, Siebel, OCC, OMC) and give it to you for FREE.
See your ideas in action in less than three weeks!
App'ify - Wonder, How?
Do you have a mind-blowing app idea? If yes! SoftClouds' welcomes you to submit it. We will get you a Proof of Concept - that can help you address challenges related to Customer Engagement, Service Optimization and provide an all-new mobile experience to bring your mobile ideas to life!
App'ify - Jet Set Go!
To start your application fill out the form below. We will pick the top 5 app ideas, get on a call with you, build the app and deliver a Proof of Concept (PoC) to you at Oracle OpenWorld 2018 in San Francisco, CA.
Picks will be made based on the idea that will create the most significant advantages to your business and practical use-cases.
App'ify - Criteria for Picks:
Innovation in Idea

Novelty of Concept

Solves real problems of Company
App'ify – What you Get?
The best five app ideas will get their PoC application built for free. We will showcase the Apps at Oracle OpenWorld 2018 – San Francisco at a SoftClouds hosted dinner event on Oct 23, 2018.
Application Deadline: Oct 1, 2018
Terms & Conditions for "App'ify your Oracle CX with Android"